A Beauty Timeline for Your Stress-Free Wedding
May 13 2019
If you have a wedding planned, you know the importance of sticking to a timeline to get all the details in order, like the venue, the food, and the music. But on your special day, you'll want to look and feel picture-perfect – you'll cherish those photos for a lifetime. To make sure you look your best, you'll need a beauty timeline along with your timeline for all the other details. Today, we'll give you the perfect beauty timeline for a stress-free wedding, starting at six months out. If your special day is sooner, don't worry – just start at your timeframe and you'll still look fabulous!
Six months out:
Start regular facial treatments. This allows time for enough facials to make your skin glowing and healthy on your special day. Schedule these monthly.
Start your waxing appointments. If you have unwanted facial hair, you'll want to start waxing a few months before your big day so everything will be smooth and your brows will be perfectly shaped. You'll also want smooth legs and underarms, especially if you're planning a beach honeymoon! Schedule waxing treatments every three to four weeks.
Tinting. If you're considering brow or lash tinting, the best time is now to be sure you like the results.
Consult with your stylist and makeup artist. The earlier you do this, the better the results. Talk about what you want and decide on the best style for you. This far in advance, you can try out a few styles and even change up your color – you still have time to make corrections.
Five Months Out:
Book all your appointments. This includes hair, makeup, and nail appointments for you, your bridal party, and the mothers of the bride and groom.
Three Months Out:
Start regular manicures and pedicures. This will give you plenty of time to get your nails in great condition, as well as choose the perfect colors for your special day. Book regular mani-pedi's from now until the big day, usually weekly for hands and every few weeks for feet.
Get your texturing done. If you're going for a perm or straightening treatment, do that now, and plan on possible touch-ups before the wedding.
Get a trim and try out your style. Keep visiting your stylist regularly to keep those split ends at bay. Now is the time to try out that full style you have planned and see how things look.
One Month Out:
Try out your makeup. Have the full makeup application done and have some pictures taken. It'll give you a chance to see how you photograph in those colors under different lighting. Bring the photos to your next makeup artist appointment.
Three Days Out:
Have your final waxing done.
Put together a touch-up kit for the wedding day. Include things like cotton balls and tissues, powder, concealer, hairpins, hairspray, and lip gloss.
One Day Out:
Grab a massage. It's time to relax! It's a big, important day, but you'll want to be able to enjoy it.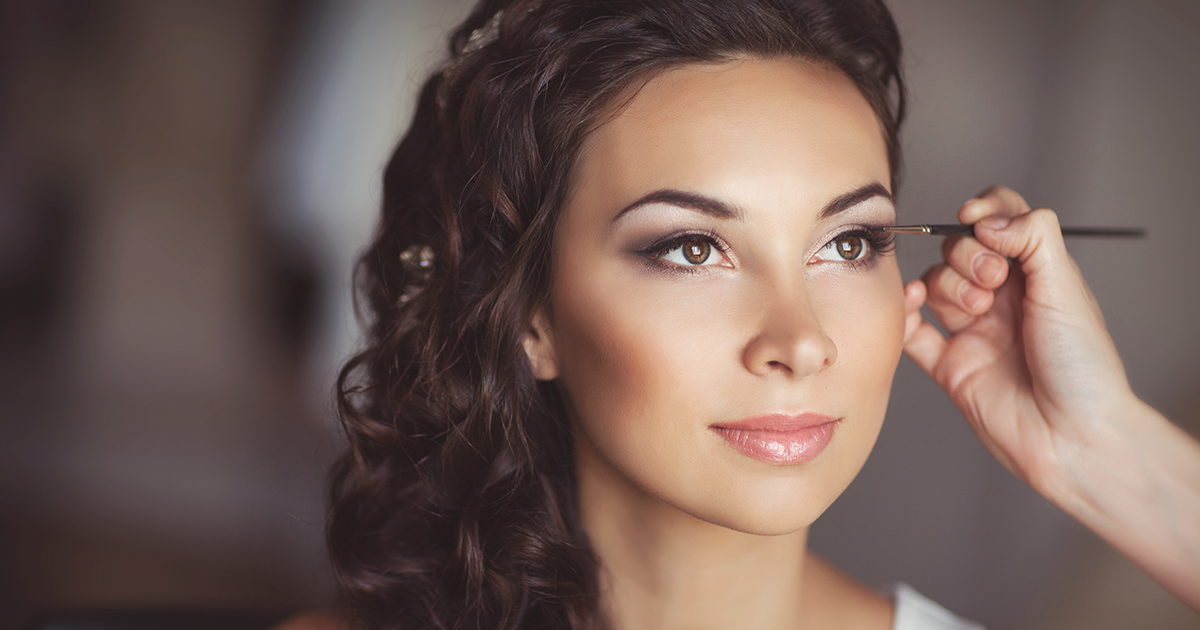 You're ready for your special day! Get your hair and makeup done three hours before the ceremony – and be ready for touch-ups a few minutes before. Enjoy your day!
If you need bridal beauty services, visit us today at The Glam Room to get started. We offer every service you need to help you and your bridal party look gorgeous on your special day! Find us at 308 Delaware Street in Kansas City or call 816-605-1949 to book your appointment. To book and manage appointments on your mobile device, download our free mobile app from iTunes, Google Play, or Amazon.