BOTOX® Is for So Much More than Wrinkle Prevention
June 30 2022
Most people have heard of BOTOX®, the effective treatment that prevents some types of wrinkles. But what you might not know is that BOTOX® can also be an important part of your beauty routine even beyond the anti-aging benefits.
Understanding BOTOX®
BOTOX® is created using Clostridium botulinum, which in small doses works on targeted muscles to create the desired effect. The compound freezes muscles, which stop them from giving the appearance of wrinkles on the skin's surface.
BOTOX® doesn't work on all wrinkles, because some fine lines and wrinkles are caused by skin damage. But in areas where your muscles move regularly – like the corners of your mouth (smile/frown lines) and your forehead – which can make lines in these areas look deeper. 
However, those other types of wrinkles that are caused by skin damage need different treatments. That's why BOTOX® is a complementary treatment that makes your entire beauty regimen more effective. 
How to add BOTOX® to your beauty regimen
The important thing to know about your skincare is that it must be personalized to meet your skin's individual needs. Everyone's skin is different, and so many factors are at play when it comes to optimizing your skin health. 
That's why the expert estheticians at The Glam Room are dedicated to creating personalized treatments for each client. When you make an appointment for a skincare consultation with an expert Glam Room esthetician, they'll complete a full assessment of your skin's needs and create a personalized skincare regimen that combines home skincare with professional skin services that are best for you. Following a personalized skincare prescription always gives you the best results for healthy-looking skin.
When you add BOTOX® to your skincare routine, it complements other treatments that also help reduce the signs of aging like fine lines and wrinkles.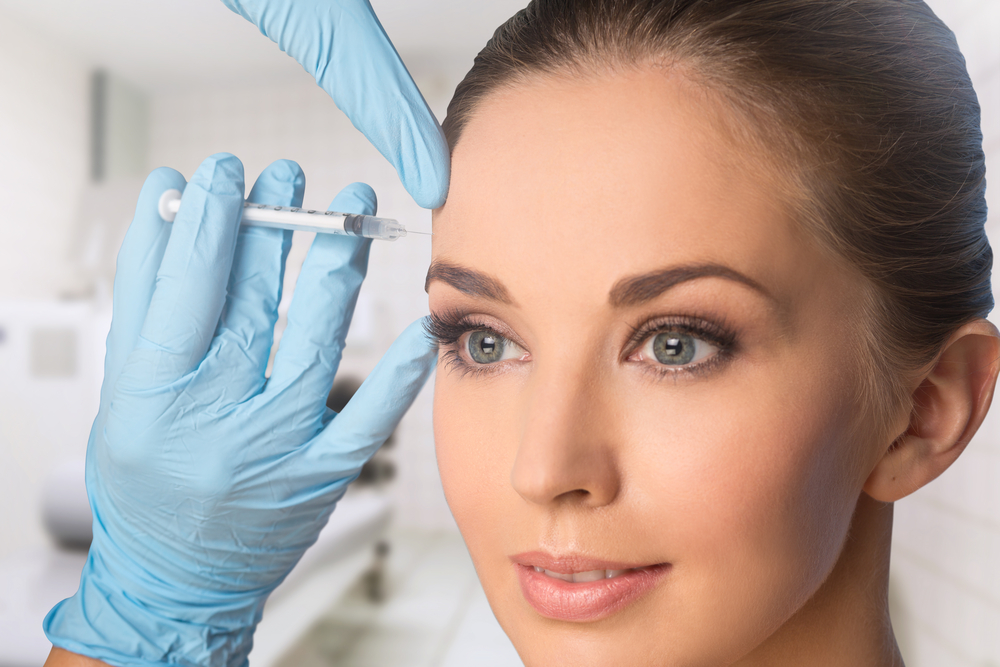 The best products to complement BOTOX® treatments
Your Glam Room personalized skincare regimen will include professional-grade products from the salon brands we trust. We offer SkinCeuticals® and Dermalogica® products that use only the best ingredients for your skin. SkinCeuticals® ADVANCED SKINCARE BACKED BY SCIENCE is dedicated to providing the best dermatologist-recommended skincare products that prevent free radical damage in formulas backed by rigorous scientific testing. Dermalogica® is a skincare company that was founded by a skin therapist, so they know the best ways and most effective ingredients needed to create custom skincare solutions that work for you.
Other uses for BOTOX® beyond skincare
BOTOX® has been found to treat other medical conditions besides wrinkles. Though it's primarily thought of as an anti-aging treatment that can give you smoother, younger looking skin, it's also an effective medical treatment. 
Migraines. Many migraine sufferers use BOTOX® as prevention for chronic migraines. It's been found to be an effective treatment for many people with this chronic condition.
 
Cervical dystonia (neck spasms). BOTOX® has been found to help control the characteristic spasms caused by this condition. 
 
Hyperhidrosis. Some people experience excessive sweating of the underarms. It was discovered that BOTOX® can assist with this condition, which otherwise causes troublesome and embarrassing sweating.
 
Overactive bladder. Some patients are prescribed BOTOX® for overactive bladder, helping to control this issue when caused by muscle issues. 
 
Lazy eye. In some people, muscular difficulties lead to uneven eye movement, or lazy eye, when one eye doesn't quite follow the other. BOTOX® can help control the muscles that cause this misalignment. 
 
Blepharospasm. This is another eye condition that causes uncontrollable blinking, which can become a severe problem for some people. BOTOX® has also been found as a helpful treatment for this condition.
Questions about BOTOX®
Many of our Glam Room clients ask about BOTOX®, and these are two of the most common questions we hear:
How many BOTOX® treatments will I need?
Everyone has different skincare needs, so this will vary based on your own personalized skincare regimen. Generally, the effects of BOTOX® last about three to four weeks. Once the treatment wears off, you'll need a new BOTOX® treatment to maintain your results. 
Does BOTOX® hurt?
BOTOX® is an injection that uses tiny needles to deliver the product directly to the muscles needed. For most clients at The Glam Room, there is very minimal, if any, discomfort with this procedure. If you're particularly sensitive to needles, talk to your Glam Room RN or Botox Certified Esthetician before your BOTOX® appointment to discuss pain management options. 
Want to add BOTOX® to your beauty routine? Make an appointment at The Glam Room today and let our professional RN or Botox Certified Estheticians give you a complete skin assessment and develop a personalized skincare regimen for you! You'll find us at 308 Delaware Street in Kansas City or call 816-605-1949 to schedule your skincare appointment. You can also schedule your skincare services appointment on our mobile app, available for free on iTunes and Google Play. And whenever you're looking for the best stylist- and esthetician-recommended products, you can find everything you need in our exclusive online store.