Breathe in the Benefits of The Glam Room's Salt Room
June 30 2021
If you've been dealing with chronic sinus, lung, or skin conditions and want to try a more natural approach to relief, natural salt therapy can be the perfect choice for you. The Glam Room has partnered with Avena Naturopathic Center for Well-Being to create our luxury Avena at The Glam Room Salt Room, designed to provide you with a relaxing atmosphere while the healing power of salt helps to relieve bothersome symptoms or skin issues.
What is a salt room?
A salt room is a soothing environment that harnesses the natural healing powers of salt to help relieve symptoms of issues like colds, sinus congestion, and even some different skin conditions. It's a spa-like atmosphere where you relax and breathe in helpful salt molecules.
Why salt? 
For centuries, people have used the healing power of natural sea salt for various remedies. It kills bacteria and can also clear up problems with excess mucus or irritation that are contributing factors in many conditions. Then in the 1800s, a researcher discovered that men in salt mines had fewer respiratory infections, and over the years salt's healing powers have been investigated more.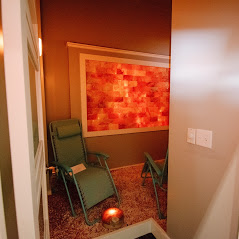 How does a salt room work?
The healing process is activated by breathing in particles of salt and letting those particles absorb onto the skin. For our Avena at The Glam Room Salt Room, we use high-quality pharmaceutical-grade salt crystals and grind them into tiny particles that are then vented into the Salt Room. You just sit back and relax, read a book, or enjoy relaxing music in a zero-gravity spa chair and let the salt do the rest!
What conditions does a salt room help treat?
Salt helps clear up clogged noses and sinuses, which makes it great for helping relieve some of the symptoms of respiratory conditions. It also helps detox the skin, helping to clear up many different types of skin issues and rashes as well. Our Avena at The Glam Room Salt Room can ease symptoms from many conditions, including: 
Allergies
Colds and flu 
Sinus infections
Ear infections
Bronchitis
Asthma
Emphysema 
Sinusitis
Cystic Fibrosis
Viral Infections
Dermatitis and other skin conditions
Does using a salt room have any side effects? 
Salt therapy is safe and free of side effects for most people, but you should always consult your doctor before starting a new therapy if you have any serious medical conditions like cancer, hypertension, mental health disorders, or diseases that are contagious. Salt therapy is available for adults, young adults ages 13 to 18, and children, although children must be accompanied by an adult for their salt therapy sessions. Salt therapy is not recommended for babies six months and younger. 
Are salt rooms clean and sanitary?
Our Avena at The Glam Room Salt Room is perfectly clean and sanitary for all our clients. We take pride in providing the best environment for your health and wellbeing and take our comprehensive safety and sanitation policies very seriously. 
Our HEPA air-filtered room ensures that 99.97% of airborne particles are captured and removed for clean air safety. All surface areas inside our luxury spa Salt Room are cleaned regularly with natural sea salt. This ensures that you can relax and enjoy your salt therapy treatment in a completely sanitary and safe environment. 
How long do salt therapy sessions take and how many do I need?
Everyone's needs are different, so everyone will have a different salt therapy schedule. In most cases, you'll get the best, lasting results by doing your salt therapy treatment on a regular schedule for several sessions. Each session takes 45 minutes, the perfect amount of time to relax and destress after a long week.
At The Glam Room, we're thrilled to provide a luxury spa experience for natural salt therapy treatments. Make an appointment today and our expert salt therapy technicians at our Avena at The Glam Room Salt Room can assess your needs and see if salt therapy in our Salt Room is the right treatment for you. You can find us at 308 Delaware Street in Kansas City or call 816-605-1949 to schedule your appointment, or you can schedule your Salt Room salt therapy appointment right from your mobile device with our The Glam Room mobile app, available on iTunes and Google Play.