Get the Full, Luscious Lashes You've Wanted at The Glam Room
May 31 2020
If you were born with thick, long, dark, beautiful lashes, you've got a valuable leg-up in your beauty routine. For the rest of us, the daily struggle with clumping, irritating mascara, and time-consuming curling can be frustrating. Fortunately, science has brought us some exceptional alternatives that help us get the gorgeous lash look we want without all the hassle.
Extensions. Eyelash extensions are a great option for people with light, short, barely-there lashes who want to build volume without the daily struggle with mascara. Extensions are not the same as fake eyelashes, which is a full set you glue onto your lash line. Lash extensions are attached one-by-one to your natural lashes, so they literally become an extension of your natural lash. They're longer, darker, and fuller than your natural lashes, so the result is a dramatic look of a really good mascara without hassling with eye makeup every day. Extensions are a customized approach – with the help of our estheticians here at The Glam Room, you choose the length, color, and thickness that works for you. Your selection will depend on your desired result, your face shape and bone structure, and the strength of your natural lashes, so your first step is always a consultation with one of our estheticians. 
One of the options is whether to get a full set or partial set. Many people who haven't tried lash extensions yet opt for a partial set, which enhances your look without a full commitment, but once they try them, most come back to get the full set. It takes about 2 hours to apply a full set of lash extensions, and you'll come back for periodic touch-ups to keep them looking great. That's because extensions are attached to your natural lash, so as they shed with time so will your extensions. As this happens, touch-up extensions can be applied to your new natural lash to keep them looking full. 
After your appointment, there's a short waiting time before you should shower or swim to be sure the extensions are properly set. Our estheticians will help you prepare for your pre- and post-appointment lash care.
Tinting. If your lashes are full and long but just not dark enough to give your eyes that extra pop, tinting may be the solution for you. Lash tinting involves applying a dye that makes it look like you're wearing mascara without the hassle of applying it every day. Tinting is a customized process where our estheticians help you choose the color that's best for you. 
Lash tinting is a quick and effective way to get the look you want without mascara. Your appointment takes only 10 or 15 minutes, and the effect lasts for about 3 to 6 weeks. Like extensions, tinted lashes will shed and be replaced by your natural lashes, so you'll need some touchups to keep the effect going.
Tinted lashes are waterproof, so you can shower, swim, or work up a sweat with your favorite sport without worrying about your look.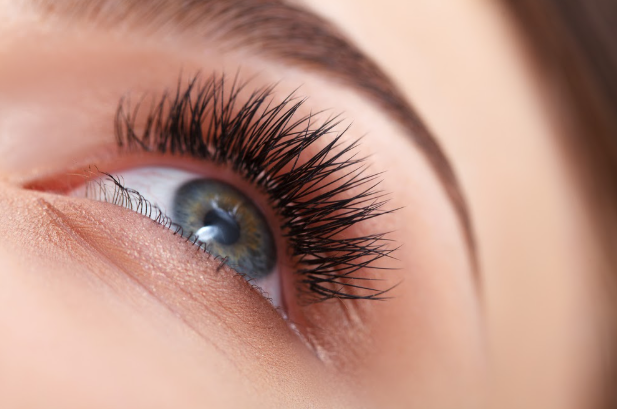 Lifts. Do you have dark, thick lashes but look better after curling? Tired of fussing over the lash curl every day? You may be the perfect candidate for a lash lift. Lifts curl your lashes up just like the manual curl you do every day – except it's done once by our estheticians then you stop worrying about it for about 6 to 8 weeks! Your appointment will take about 45 minutes and the results are amazing. Lash lifts make your eyes look brighter and more awake without the hassle of the daily struggle with the manual lash curler.
If you've been looking for a way to get the look you'd get from hours of makeup application without the hassle, connect with our professional makeup artists and estheticians at The Glam Room to find the perfect solution for you. You can find us at 308 Delaware Street in Kansas City or call 816-605-1949 to schedule your appointment, or you can schedule your lash service consultation right from your mobile device with our free mobile app, available on iTunes and Google Play.