Hair, Makeup, and Nails for Prom Queens!
March 15 2022
With spring in the air, it's time to get ready for some of the exciting events and gatherings. And during the spring season, your prom is one of the most important! You'll want to look and feel your best in your gorgeous new prom dress, and our experts at The Glam Room can help with special occasion services for professional makeup applications, trending hairstyles, and nail treatments!
Your prom is something you'll remember for a lifetime, and there will be plenty of cameras flashes happening all night – and those photos will be treasured memories for many years to come. You've invested a lot in your dress, but to complete your look you'll need hair, makeup, and nails to really make you camera-ready for that special day!
Hair. The crowning touch on any outfit is your hairstyle, so you don't want to leave that to chance, having your friends help you tie it up quickly minutes before you head to prom. Instead, reserve your appointment today so one of our professional stylists can create the perfect look for you. Here's why you should use a professional for your prom hairstyle:
Best styles. Expert stylists are always in the know about the latest trending styles, so it's important to get their advice about the look that's right for you. Missing out on the latest style means the investment you made in your prom dress won't pay off in those forever photos as you want it to.
 
Long-lasting. Only professional stylists know how to put complex updos and other styles in place so that they'll last all night. Experts know the best ways to lock in the style so it won't fall out while dancing and having fun!
 
Color. You also might want a new spring hair color to go with your new prom style! If so, we highly recommend scheduling your appointment now so that you have time to get the color you want, and for that color to set so that you can style your hair the way you want for prom. Never color your hair at home, especially right before an important event like the prom – the results could be disastrous!
Makeup. We all do our makeup every day. So why not do it ourselves for prom as well? The makeup you need for a special occasion is a lot different from what you do in your morning routine. Just remember – this makeup will last forever in photos! Here's why you want a professional makeup artist putting your look together for prom:
Camera-ready. Light reflects differently for the camera – both from professional photographers and the photos you snap on your phone. What looks great for in-person at school will look a lot different in a photo. Professional makeup artists know how to use color and shading to highlight your best features for those perfect photos.
 
Lasting touch. Dancing, hot lights… There's a lot going on at your prom that can mess up your makeup. That's why applying it the right way is so important, and professional makeup artists are not only trained on the best way to help your makeup last, but they've got an arsenal of professional products from top brands to make it happen!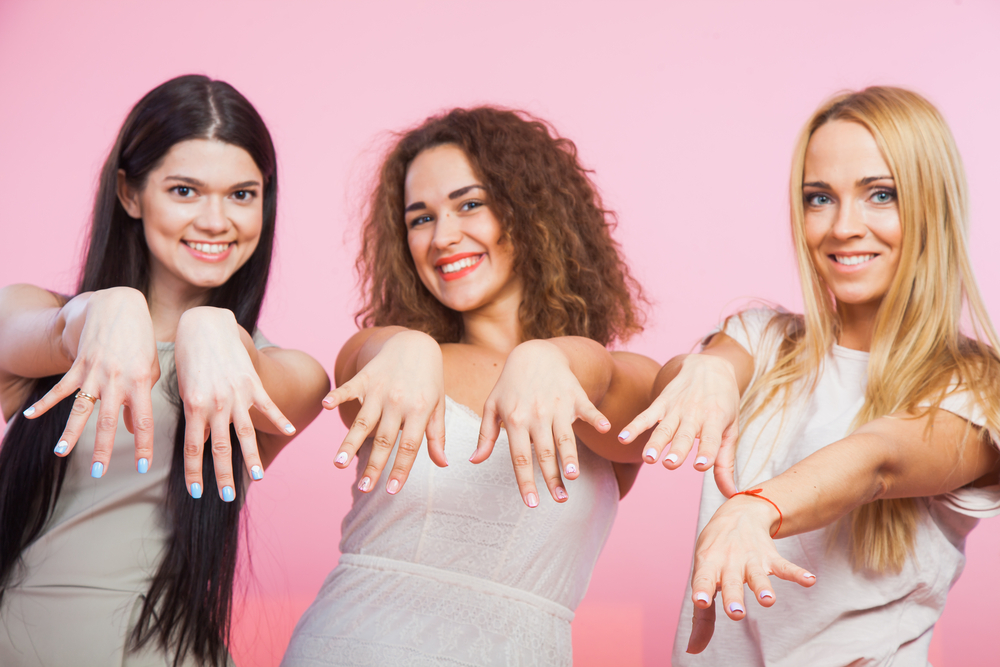 Nails. Sometimes we forget about our nails – but at your prom, you'll want to be reaching for snacks and a drink with the prettiest nails anywhere! And it's not just the looks: having regular, professional manicures and pedicures keep your skin and nails healthy so they'll always look your best for your prom and beyond! Here's why professional manicures and pedicures are so important:
Colors and styles. Expert nail technicians have the expertise to create the best designs and help you choose the right colors that will go best with your prom look. They also have tons of variety to choose from instead of just those few bottles of polish you might have at home. 
 
Lasting look. Professional manicures give you options for long-lasting nail colors like dip powders and gels that last much longer and are chip resistant. 
 
Don't forget the toes! If you have an open-toe sandal planned for prom, a professional pedicure will keep your toes looking just as great as the rest of your outfit. Plus, you get the benefit of healthy skin and nails on your feet, where fungus is most likely to grow. With regular professional pedicures, your expert nail technician at The Glam Room will spot those problems before they become unsightly and embarrassing.
Be sure to reserve your appointments now for all your special occasion prom hairstyling, makeup application, and nail care needs so you'll be ready for prom!
Reserve your appointments now before they fill up and look great for prom with a little help from the experts at The Glam Room! Our expert makeup artists, nail technicians, and stylists will give you the perfect look for prom! Find us at 308 Delaware Street in Kansas City or call 816-605-1949 to schedule your skin, hair, or nails appointments. You can also schedule your appointment on our mobile app, available for free on iTunes and Google Play. And if you're looking for the best stylist- and esthetician-recommended products to care for your skin and hair at home, you'll find everything you need in our exclusive online store.