How To Keep Your Color-Treated Hair Healthy and Vibrant
October 31 2019
You're feeling good and looking great because you've just stepped out of the Glam Room with gorgeous new hair color. It's perfect for your fall style and will look great with that new outfit, so you want it to last as long as possible. Keeping colored hair looking vibrant and healthy is easy with a few tips from the pros.
Wait to shampoo. The coloring process opens the outer layer of each hair strand, called the cuticle, to let the color penetrate into the cortex layer of the hair to process. Shampooing before the cuticle seals up can cause a loss of some of that color, so hold off before that next shampoo – your stylist will let you know how long you need to wait. The longer you wait to shampoo, the longer your color will last between touch-ups.
Go sulfate-free. Once you've gotten the green light to shampoo, choose your product carefully before lathering up. Sulfates are the ingredients that help create that lather, but they can also strip off too many natural oils, which your hair needs to stay moisturized and looking healthy. Our stylist will recommend the right Loreal Professional Shampoo – and conditioner – that will keep your hair healthy, shiny, and soft and make your color look its best.
Shampoo infrequently. Most people shampoo much too often, and the result can be dry, damaged hair, split ends, and frizz. Ask your stylist about the best timing for shampooing your hair. We usually recommend shampooing your hair only two or three times per week, then using a dry shampoo, like our L'Oreal Professionnel Tecni Art Dry Shampoo, between shampoos to keep your hair smelling and feeling fresh.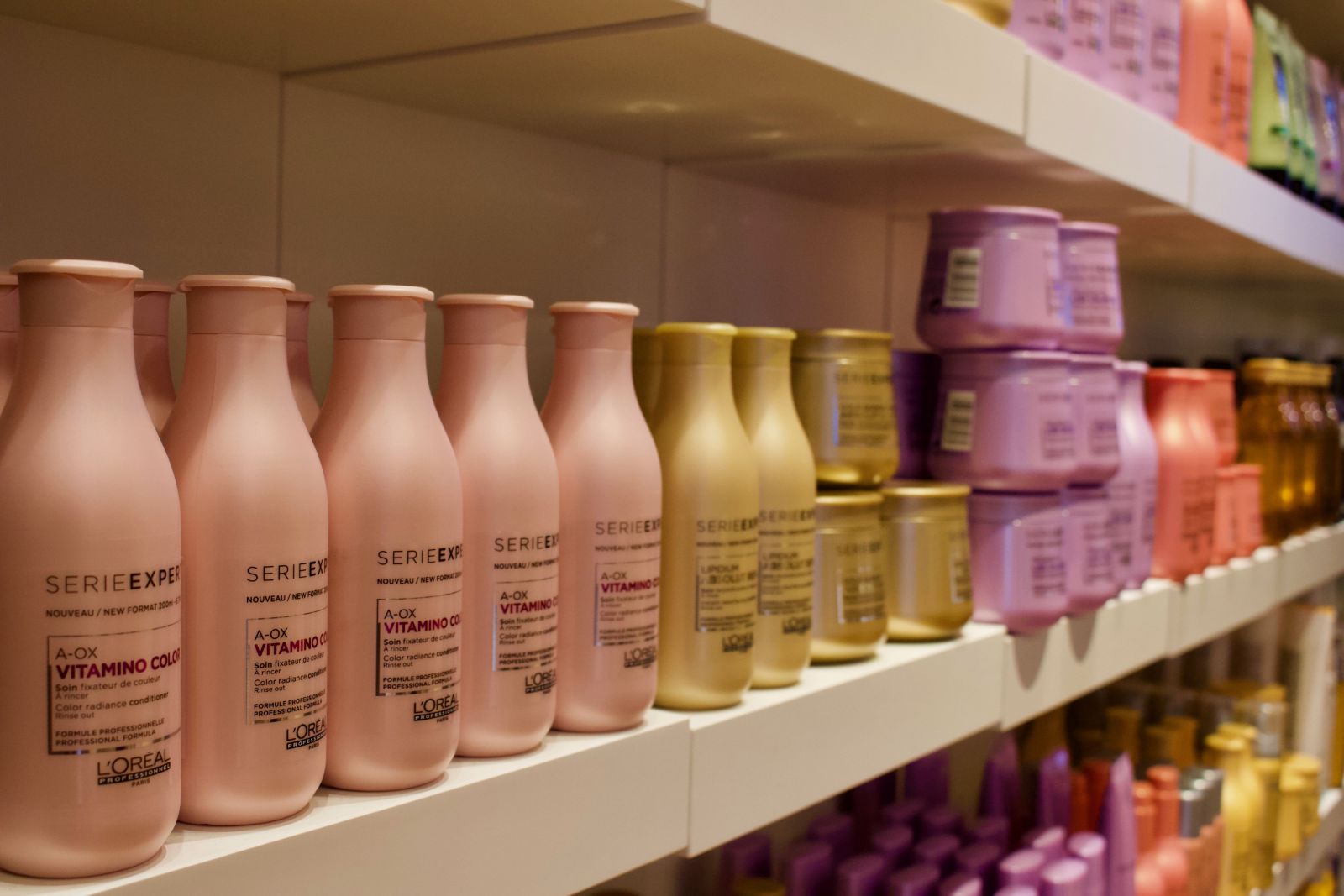 Dial back the heat. Heat can be your hair's worst enemy, whether it comes from heated styling tools or hot, steamy showers. Heat dries out your hair's moisture and can cause damage. When washing and rinsing, use warm water instead of hot, and go for a style that uses minimal heated styling tools. If your favorite style requires a blow dry, flat iron or curling iron, apply one of our L'Oreal Professionnel heat protecting products to your hair before styling. Keeping color-treated hair well hydrated is the best way to keep your color looking rich and vibrant.
Ask about prep work. If you haven't had your coloring done yet, ask your stylist what you need to do to prepare for the color treatment. Some people, especially those with dry, damaged hair, need one or two weeks of deep conditioning to prepare hair for coloring. For others, a good shampoo with an anti-residue product, like our L'Oreal Professionnel Serie Expert Volumetry Shampoo, does the trick. Everyone's hair is different, so your stylist can give you the best advice on how to prepare for a color treatment that lasts.
Now that you know the secret to great-looking color-treated hair, it's time to visit the Glam Room for a unique, gorgeous hair color treatment that fits your unique personality. We offer:
Full-color treatments with a cut and style

Full highlights with a cut and style

Partial highlights with a cut and style

Trend techniques like ombre, balayage, or color melt

Men's color and haircut 
Inspired? You'll get the hair color you'll love at The Glam Room. Make an appointment today and our professional stylists will help you find that perfect color for your unique personality. You can find us at 308 Delaware Street in Kansas City or call 816-605-1949 to book your appointment. You can also book right from your mobile device with our free mobile app, available on iTunes, Google Play, or Amazon