Look Fab in 5 Minutes with These 5 Easy Makeup Steps
December 31 2021
With all the rushing around this holiday season, you probably don't have a lot of time for makeup. And it's not just the holidays – how many times have you rushed around with only five minutes to get ready? If you're like most other people, your answer is … a lot! Thankfully, you can still look great even when you have only a few minutes to pull together your makeup look. 
 
The expert makeup artists here at The Glam Room have got you covered – with a few easy tricks of the trade that can help you look fabulous even when you only have five minutes! 
 
Step 1: Cover up, protect, and moisturize in one step. Moisturizing is crucial for healthy, glowing skin, and that's the basis for great-looking makeup. Sunscreen protects your skin from damage, helping you look great for years to come. And foundation helps even out your skin tone for a fantastic makeup base to help you look incredible. Thankfully, you can get all three with a tinted moisturizer! Glo Skin Beauty's® Moisturizing Tint SPF 30+ gives your skin everything you need in one easy-to-blend step – even color, moisturizing, and protective sunscreen. It's the perfect first step.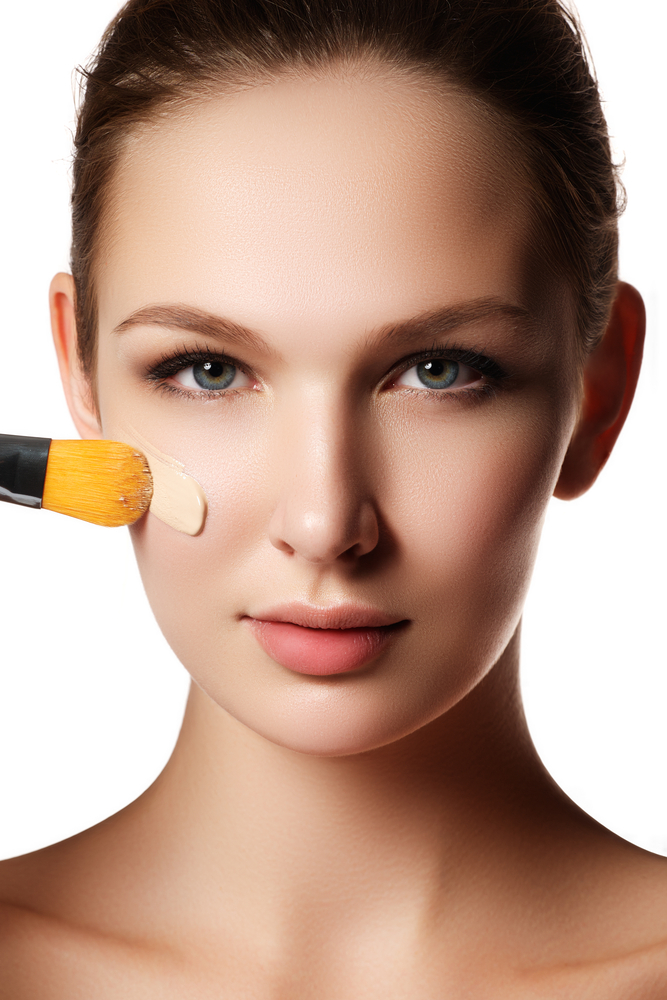 Step 2: Illuminate your eyes. When you don't have time for a full makeup application, the secret is to brighten up your best features. The eyes are the first point of focus, so you'll want to choose a light, bright eye shadow color to bring attention to your eyes. Cover your entire lid, including the crease, to make your eyes look wide-open and alert.
 
Step 3: Apply liner – strategically! When we have the time, a gorgeous look requires carefully applied eyeliner that really makes your eyes the central focus. But when you're strapped for time, should you ditch the liner? Our expert makeup artists say no way – it's worth it to take the time to apply liner, but when you only have a couple of minutes, make it count. Line the bottom lashes on both eyes, but you don't need to go all the way across for a great effect. Instead, start right in the middle and go outward toward the corner of both eyes. This will give you that attention-getting look of the liner without taking as much time as a full eyeliner application.
 
Step 4: Mascara is a must. Nothing makes your eyes look alert and awake as well as mascara. When you can't clearly see your lashes, your eyes tend to look tired, and they don't stand out as well as when you take the time to apply mascara. This next step is easy. Just apply two coats of mascara instead of one for a more dramatic look. And if you're lucky enough to know in advance that you'll be in a hurry, you can prepare by getting your lashes in great shape ahead of time with Glam Room lash tinting and lifts! Lash tinting tints your lashes darker from root to tip, so you get that mascara look without having to take the time to apply mascara! Lash lifts curl your lashes so they're more visible and so your eyes look more alert. You can also get brow tinting and the Glam brow service for perfectly shaped and colored brows that are ready to go instantly.
 
Step 5: Don't forget the lips! The final step highlights the next most important part of your face to showcase – your lips. Nothing finishes up a makeup application quite like a bright, bold lip color for a fantastic look. Choose your favorite shade that's bright and beautiful and you're ready to head out the door – looking fab!
 
At The Glam Room, we use only the best products for your skin, and that includes the makeup lines we choose for your professional makeup applications. Glo Skin Beauty® is certified cruelty-free and uses only the best natural ingredients and beneficial minerals that care for your skin. Your skin will love the nourishing ingredients and powerful antioxidants, and you'll love the rich, beautiful colors that give you the perfect finish!
 
Got a wedding or other special occasion coming up? Look perfect for your day with a professional makeup application from the makeup experts at The Glam Room. We can help you and your entire bridal party look great with expert hair styling and makeup application that will help everyone look fab in those photos! Visit us at 308 Delaware Street in Kansas City or call 816-605-1949 to schedule your appointment. You can also schedule your appointment on our mobile app, available for free on iTunes and Google Play. Once you get the look you want, never run out of your professional stylist-recommended products – you can get everything you need on our exclusive online store.