Sexy and Spooky Hair and Nails for Your Fall Costume Parties
October 15 2022
The spooky season is here, and with it comes some awesome costume parties. No costume is complete without perfect hair and nails. If you're looking for inspiration to put the finishing touches on your look you've come to the right place. Here are our top spooky and sexy picks for hair and nail designs that will make you the talk of the party.
The Hair
Orange and Black Hair With Spiderweb Undercut- Midnight black and pumpkin orange are the classic colors of the season, and this black color with orange highlights is a sexy version of that. Styled into a messy twist and secured with spider-adorned pins to reveal an undercut with a spiderweb design shaved in. This one is sure to be an eye-catcher.
French Bubble Braid With Skulls- This style will work with any hair color, but it is especially striking in jet black or ghostly platinum or gray hair. Hair is sectioned French braid style and secured into a puffy bubble braid trailing loosely down your back. Each bubble is then parted in the center and a small skull is tucked away inside to peek through the opening. 
Ghostly Victorian Updo With Spiky Black Crown- A voluminous Victorian updo takes on a ghostly look when spritzed with a veil of white. Add a spiky black crown and pair it with a Victorian gown and pasty white makeup for an eerie vibe. You'll look like you've returned from a forgotten era beyond. 
Maleficent Hair Horns- This look begins with Maleficent horns as forms for your own hair. Extensions may be helpful in achieving this look. Your hair is styled up and wrapped around the horns for a striking and sinister style that looks as if hair horns are growing right out of your head. You'll need strong hold styling putty and hair spray to keep everything in place. This style would make any villain proud.
Slicked Back Black With Cobweb Veil- This is the perfect hairstyle for an undead bride. Jet black strands are slicked back under a veil of cobwebs to perfectly compliment your back from the grave bridal ensemble. This look is ghoulishly gorgeous.
Simple Sleek and Shiny Waves- Who says your hair can't be simply sleek and shiny when you're dressing up? This simple and classy style pairs perfectly with Cinco De Mayo style makeup to give you a spooky yet stylish look that anyone can pull off. 
The Nails
Ghostly White French Tips- French tips get a ghostly twist with this nail art design. Instead of straight across these tips swirl and swoop across the nail of your nail to form a ghostly shape. Add haunting black eyes and a mouth for neutral nails that will pair with any costume.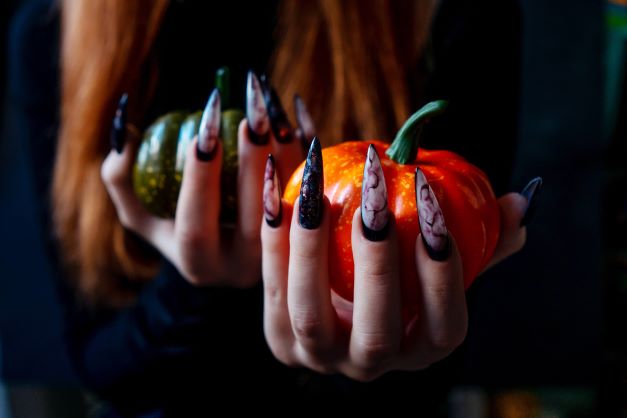 Creepy Coffin Nails- This is the perfect occasion for super long coffin nails. With a base of sheer black and opaque black tips, these nails are embellished with a creepy crimson blood drip design from the base. The look is sexy and elegant yet ominous.
Mystic Designs- A deep black base with mystic designs and stars and moons in shimmering gold are the perfect complement to a fortune teller costume. This one is elegant enough that you might even pull it off at the office to bring some holiday fun to work with you.
Devilish Tips- This look starts with a nude or neutral base coat. Bright glitter red tips add the color with accent nails with horns or tails trailing down onto the nail giving this look a devilish flair. Pair them with a sexy black dress and red glitter horn headband and you have a simple and sexy look that's sure to turn heads.
Lunar Eclipse- An iridescent and glittery midnight blue color provides the perfect backdrop for a lunar eclipse. Two or three nails will have an eerie moon accent in various stages of the eclipse that is then mirrored on the other hand.
Glossy Obsidian Black- Nail designs don't always have to be elaborate to make a statement. If you want a look that will be great for every day as well as compliment your costume, go with a glossy obsidian black. It will look great with anything that you decide to wear, partying or not.
Whether you want something simple or you plan to go all out, allow the talented stylists and nail technicians at The Glam Room to help you create the perfect look to compliment your costume. You'll be the talk of all your fall costume parties. You can find us at 308 Delaware Street in Kansas City or call 816-605-1949 to schedule your hair and nail appointment. You can also use our mobile app, available for free on iTunes and Google Play to manage appointments from your phone. And you will find all of the professional quality products you need to create and maintain your spooky styles at home in our online store.