Summer Styling Tips
June 1 2018
Hot Humid Days of Summer lead to a lot of outdoor fun around water, pools, lakes, rivers and oceans and don't forget the indoor air conditioning.  All of these can wreak havoc on our hair, skin, and nails. 
Hot tips to survive Summer weather are as easy as moisturize, moisturize and again, add more moisture. Before going out in the sun protect your hair and scalp by wearing a hat. If you are going to be in water with chemicals or even salt water – protect your hair by wetting it and putting on L'Oreal Professionnel's Pro Fiber Restore Leave-In Conditioner before you go in the water and reapply the leave-in conditioner every hour you are in the water. 
After your fun in the sun and water – be sure to shampoo with a deep cleansing shampoo, like Loreals Deep Nourishing Shampoo followed by a deep conditioning treatment recommended for your hair type by our stylist and finish off with L'Oreal Professionnel's Pro Fiber Restore Leave-In Conditioner.  Be careful to detangle with a large tooth comb working from the ends up to the scalp so as not to add stress or breakage to hair strands.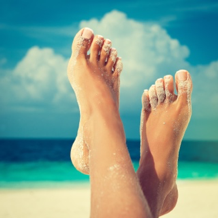 Having fun in the sun doesn't have to leave your skin feeling like an alligator either.  Be sure and use a sunscreen on your face and body to protect from the harmful UVA and UVB rays and reapply frequently according to the product recommendations. Ask our esthetician for the perfect skin regimen for you. Immediately after you are out of the sun, shower and apply face and body moisturizers.  Our skin experts will be happy to help you with your very own custom skin regimen for both in and out of the sun.
Walking on sand barefoot is a great way to exfoliate any rough skin on the heels.  After beach time, give yourself a foot massage with a moisturizing cream.  Be sure and remember those cuticles with cuticle oil. 
Have fun in the sun!