Take Your Hair Care to the Next Level with Luxury Kérastase Products
March 6 2020
The Glam Room is excited to carry one of the world's most distinguished luxury haircare product lines: Kérastase professional products. Kérastase is an award-winning brand of innovative hair care products designed to give you customized solutions for your hair's individual needs.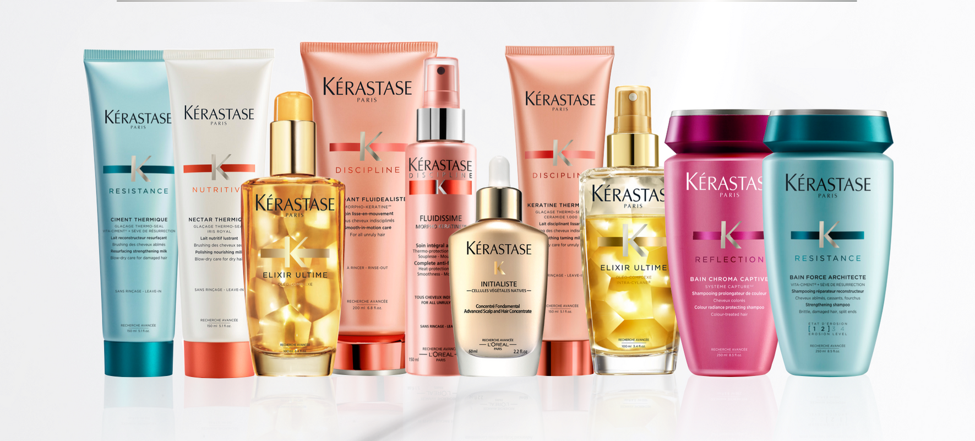 The power of science. Today's professional stylists and their clients demand more than the traditional products designed for the masses. The solution created by L'Oréal Advanced Research scientists is Kérastase, a line that lets stylists assume a more intimate role in their clients' hair care plans. The focus is on expertise and innovation to build unique products that allow stylists to build a customized solution for any haircare need.
Rigorous professional testing. The process doesn't stop with world-class research. The team of scientists that develop Kérastase has to ensure consistent, effective results in each formula. As luxury Kérastase products are designed, they're tested by professional, experienced stylists for real clients in New York, Paris, Shanghai, Tokyo, and Rio de Janeiro. No product gets passed these strict, vigorous real-life tests unless they deliver unparalleled results you can see and feel. Our Glam Room stylists uphold the same unwavering standards for products we use on our clients.
The value of luxury products. Luxury products like Kérastase are more effective than high-end drugstore brands because they're formulated with the strictest adherence to standards determined by the scientists who create these formulas. That means you're getting only the best quality product every time, which ensures that you get consistent, effective results. Luxury products are concentrated, so you use much less than the drugstore brands, and they are free of fillers and questionable ingredients that do nothing to improve your hair's strength and hydration. Kérastase products are formulated with nourishing vitamins and minerals that replenish and repair while strengthening your hair to withstand damage from heat and everyday pollutants.
Specific results. Every hair type is different, and every salon client wants different results, depending on their hair type, texture, style, and lifestyle, such as how often they spend time outdoors in the sun. Kérastase isn't just one product. It's a line of products designed specifically to let our stylists design the perfect haircare "prescription" for your individual needs. For example, while some products are designed to combat excess oil, others hydrate or hydrate without adding weight. Others produce more shine. Still, others inject powerful proteins to build strength and structure. It's all about the right combination to take your hair care results to the next level.
A valuable investment. You invest too much in your hair to trust it to products that don't deliver. The Glam Room's stylists listen to your needs, and that's why we built a partnership that lets us provide luxury Kérastase products to you. Each visit to our salon is an investment in your hair's health, and we take that investment seriously. The products we recommend have to live up to the rigorous performance expectations of our stylists before they're used on our clients. We've found that Kérastase delivers the luxury haircare results we expect from professional, luxury-level haircare products, and we wouldn't trust your hair to anything less than the best.
Socially responsible. There's one final aspect that our clients demand in the products we use, and that's a company policy of social responsibility. Sustainability is no longer an option in today's world, and we are thrilled that Kérastase products continue to ensure a socially responsible legacy. The packaging is specifically designed to reduce weight, using 45 fewer tons of plastic each year, and that's just in the cap. The Glam Room stylists are happy to partner with a luxury product line like Kérastase that cares not only for our clients' hair but also for the environment.
You can experience the difference of exclusive luxury Kérastase products on your very next salon visit to The Glam Room. Make an appointment today and our professional stylists will design the perfect haircare prescription to make your hair exceptionally soft, strong, and healthy-looking. You can find us at 308 Delaware Street in Kansas City or call 816-605-1949 to schedule your appointment. You can also book your hair appointment right from your device with our free mobile app, available on iTunes, Google Play, or Amazon.